Opportunity For All works with Room to Read to construct schools in Cambodia. Our first two schools were built in 2013 with two more planned in 2014 for a total of 4 schools built to date. In addition, 2 matching donors have also built schools in Cambodia.

Nestled between Thailand, Vietnam and Laos, Cambodia is a country that has seen many dark days. When the Khmer Rouge seized power in 1975, currency and private property were immediately abolished, and Cambodian city-dwellers were sent into the countryside to work in the fields. Under its leader Pol Pot, the regime attempted to violently restructure the country as an agrarian, communal society. During his nearly four-year reign, over 1.8 million Cambodians died of torture, execution, disease, exhaustion and starvation.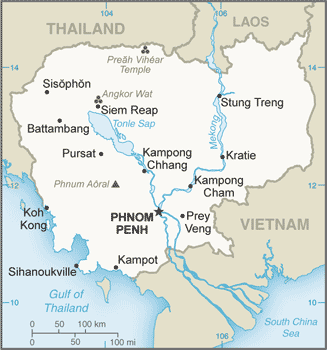 Nearly all educated Cambodians were executed during the Khmer Rouge's brutal regime. By 1978, there were almost no surviving teachers, writers or scientists in the country—an entire generation of literate role models eliminated.
While 80% of Cambodians today attend primary school, only 32% continue on to secondary. Partially, this is due to widespread child labor including farming, scavenging, garment manufacture, sexual exploitation, fishing and construction. Half of all young girls and one third of boys work, and as a result the ratio of girls to boys in school is 1:3.
For girls in Cambodia, additional educational barriers exist, such as parents' worries about over-educating their daughters, a potential handicap to marriage prospects.
Room to Read Cambodia is committed to helping the country rebuild its educational system from the ground up. Room to Read's local staff speaks the language, knows the customs and understands the challenges that exist in implementing our various programs there.
One of the greatest needs in Cambodia to be affordable Khmer-language books to meet the demand of the country's young readers. With that in mind, Room to Read's Book Publishing program has been a priority for their Cambodia team since the early days of their operations there.
Room to Read has built 41 schools in Laos since 2011.
For general information about Cambodia, please look at the following:
•
Wikipedia, Cambodia
•
U.S. Department of State, Cambodia
•
UNICEF, Cambodia
•
CIA Factbook, Cambodia