The Houay Gnam School Project - Community Profile
The New Houay Gnam Complete Primary School!
Description: Houay Gnam Village is located in Oudomxay Province about 0.5 km away from Road No. 13 North along an unpaved road. The village is about 574 km north of the Room to Read Country Office in Vientiane and it takes 15 hours to drive to it from the capital.

Oudomxay is a province in Northern Laos that shares a border with China and Phongsaly Province to the north, Louangprabang Province to the east, Xayabouly Province to the south, and Louangnamtha and Bokeo Provinces to the west. There are seven districts with a total population of 279,644, of whom 140,298 are female. The provincial capital is Xay District or Meuang Xay. Houay Gnam Village is located on the northern plateau of Laos and has 135 families representing a population of 771, of whom 365 are female. The main ethnic group living here is the Lao Seung. The principal economic activities include farming, raising livestock, running small businesses, manual labor, and textile production. Farming, which consists largely of rice production, is carried out principally during the rainy season which lasts from June to October. The weather is generally good all year round and temperatures are quite warm. The dry season runs from November to May. Houses are constructed primarily of wood, bamboo, and concrete and the village has communal toilets, reliable running water from wells or the river, and electricity. The area also offers beautiful scenery for sightseeing as well as interesting cultural attractions.

The Ho Chi Minh trail, part of which runs through Laos, was a major target for American bombs during the Vietnam War. As a result, many provinces in Laos were heavily bombed and/or covered with landmines. Oudomxay Province was less affected by the Vietnam War than some other provinces in Laos, but a certificate from the government certifying that all unexploded ordnance (UXO) has been removed from the area is still required for all construction sites.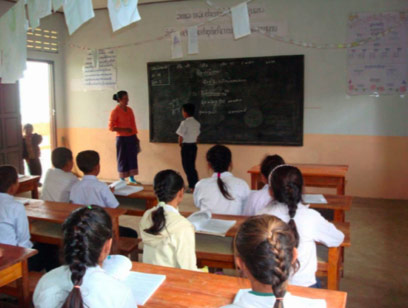 Construction of the Houay Gnam Complete Primary School was started on March 14, 2010. It was co-funded by Room to Read Laos and the community of Houay Gnam Village with strong support from the Oudomxay PES, the Xay DEB, and the Xay District Governor's office. The building took 221 days to complete with labor provided by 1,800 volunteers from the community and was ready for use on October 20, 2010. The community also provided fill dirt for the foundation, sand for concrete, and wood for the building framework and ceiling structure. The completed school covers an area 8m wide x 42m long and is a sturdy, six room brick structure erected on a concrete foundation, with steel- reinforced ground and roof beams and a green sheet metal roof supported by a hardwood frame. The building exterior has been painted a cream color with purple trim on the window shutters. Each of the classrooms is 6m x 7m in size and has a painted white interior, a wood ceiling, and windows with hardwood shutters. Five rooms are used as classrooms serving students in grades 1 - 5 and the remaining room serves as the library. The building is equipped with two bathrooms and a water tank facility.
Resources Provided by Community
- Fence
- Land
- Unskilled Labor
- Unexploded Ordinance Clearance
Resources Provided by Room to Read
- Benches. Blackboard, Chairs/Desks
- Building Design
- Transportation of Materials
- Water Supply System
Trainings
- Basic & Specialized Construction Techniques
- Building Maintenance
- Financial Management
- Project Management
"As representatives of Houay Gnam Village and the government agencies, we wish to say how pleased we are that Room to Read, in recognizing the needs of Lao children for adequate educational infrastructure, brought this school construction project to our village. We greatly appreciate the substantial funding and resources provided by RtR that made this school possible. Since the new school began holding classes, attendance has improved and the students are more motivated to study and learn. We hope that Room to Read will continue to assist us in providing better educational opportunities for other disadvantaged children in Laos. Finally, we again thank Room To Read and, in particular, the donors, whose generous financial support brought this school to our village. We wish for the donors to have good health and welcome them to visit our school and community."


The Houay Gnam Complete Primary School, established in 1989, offers grades 1 - 5 and serves students from three villages. There were five existing school buildings built of wood or bamboo with grass roofs, all of which were in poor condition. The largest building had four classrooms but no toilets. A small building adjacent to the school contains a library that was supported by Room to Read in 2009. The new school building replaced the dilapidated, older structures and helped alleviate overcrowding in the classrooms. It will also attract more students and encourage them to attend school.