Divino Nino Jesus Primary School Completed on November 1, 2011!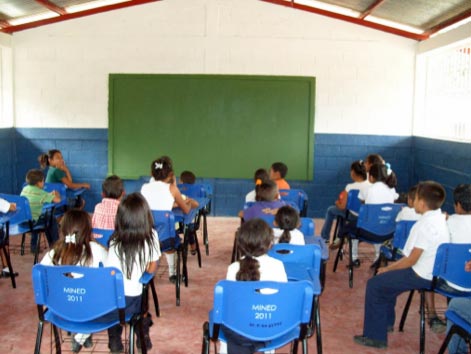 This school broke ground on November 1, 2011 and was completed on January 10, 2012. The people of El Arenal contributed a total of 335 volunteer workdays to the project, finishing on schedule.
The school in El Arenal has two classrooms and two latrines. It has a poured concrete floor, cinderblock walls with windows and a corrugated metal roof. Students began attending classes in the new school on February 13, 2012.

"I think the students will get motivated to attend classes in a new, better and safer school. The students will learn more and get a better education because their teachers will be in separate classrooms as opposed to before when there were two teachers and many students in one little room."

-Alba C. Perez Hernandez, age 46


"I learned from buildOn that it's so important to be persistent when you are trying to achieve your goals...you'll achieve your goal only if you are willing to keep trying."

-Cesar Ramon Perez Hernandez, age 45


El Arenal Community Profile
El Arenal is a small community of 56 families (total population 256) located in the department of Nueva Segovia. This community is about 300 km from the capital, Managua, and 150 km from the buildOn office in Estelí. El Arenal was founded in 1851 by Teodoro Molina and Feliciana Sevilla.

The people of EL Arenal are farmers who grow corn and beans as their staple crops. Most of them identify themselves as part of either the Catholic or Evangelical church. There is one river quite close to the community- El Rio de Jicaro. The closest health clinic is 2 km away in the town of Jicaro. People from El Arenal make this trip on foot or by horse or motorcycle. The climate in this area is typical of the region, hot during the dry season and slightly cooler during the rainy season.
Current School Conditions
Formal education has been available in El Arenal since 1981. There are currently 29 students- 16 girls and 13 boys- enrolled in grades 1 through 6. They study with 3 teachers from the community. After completing 6th grade students who are able to continue their studies walk 2 km to the nearest secondary school (in Jicaro). There are no permanent classrooms in El Arenal. Classes are held in an old, unused adobe house that belongs to a member of the community. The community has named the school Divino Nino Jesus.
The El Arenal Divino Nino Jesus School Project
The school in El Arenal will have two classrooms and two latrines. It will have a poured concrete flour, cinderblock walls with windows and a corrugated metal roof.
This project began in November 2011 and will be completed in January 2012. Before starting the construction, buildOn staff and the residents of El Arenal gathered to sign a covenant outlining the following responsibilities:

Community Contribution
• Unskilled labor: 12 workers (6 women and 6 men) per day, six days per week
• Commitment to education girls and boys equally
• The land on which the school is built
• High quality local materials: sand, gravel, water & rocks
• Volunteer management committee made up of 12 villagers (six women, six men)
• Lodging for buildOn Field Coordinator and skilled laborers in local homes
• Basic construction tools (shovels, picks, wheelbarrows, buckets, etc.) when available

buildOn Contribution
• Engineering and architecture
• Construction materials (excluding local materials) for school and latrine
• Skilled labor and plans needed to build the school
• Project management (buildOn coordinators)
• Instruction in basic construction techniques