Mgumila School Project Completed on May 22, 2011!
The Mgumila school project broke ground on April 13th, 2011 and was completed on May 22nd, 2011. During construction the people of Mgumila contributed a total of 1,252 volunteer workdays to the project, finishing ahead of schedule due to a consistently high level of community participation.
One peculiar thing in our culture is that big chiefs do not participate in construction activities, but Sub Traditional Authority Chidzuma was very different. He worked with his hands to demonstrate to his subjects how he prioritizes education in his area. He has been a model chief due to his participatory leadership. He came to the project site daily regardless of his position and wealth at home. This encouraged the community members and the village heads to work extra hard. As a buildOn staff person, I will be sure to tell other village leaders about this so they may take an example from the chief's community motivation tricks.
Edna Muluta, buildOn Field Coordinator
Mgumila Community Profile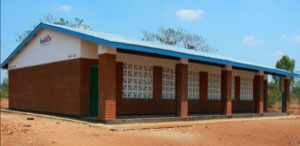 Mgumila is part of Kasungu district, in the central region of Malawi, and was founded in 1932 by the Chidzuma family. There are 3,096 individuals and 213 families living in Mgumila today. A variety of ethnic groups are represented in this community, including the Chewa, Tumbuka, Ngoni and Yao. A variety of religions are also represented, including the Presbyterian, Roman Catholic and Pentecostal faiths.
The weather in Mgumila is typical of Malawi's central region, with a warm dry season from August to November and a cooler rainy season from December to April. The people of Mgumila are subsistence farmers who grow tobacco, maize, groundnuts, cassava and sweet potatoes. The nearby Lusa River supplies the community with water and fish.
Mgumila Primary School
There are currently 765 students (288 girls and 377 boys) enrolled in grades 1-8 in Mgumila. The community has an 80-year history of formal education but has been unable to construct enough classrooms for its many children. At present the younger four grades study inside two existing school blocks in Mgumila and the older four grades attend classes outdoors under a tree.
Some students who would like to attend Mgumila Primary School walk to another community where there is space for them indoors. Those who stay are often forced to miss class due to rain. One of the 7 teachers in Mgumila, Mr. J. Chimenya, was asked about his hopes for the school at the most recent mass meeting with buildOn staff and community members. He said, "I hope more students will join us. My goal is to uplift the quality of education in this community."
The Mgumila School Project
This project will break ground in April 2011 with the help of a student Trek team from Chicago. The new school block will have 2 classrooms with a corrugated tin roof and a poured concrete floor. Two latrines will also be built near the school. The entire project will take approximately 12 weeks to complete. The people of Mgumila have already gathered all the local materials needed for the project and molded more than 50,000 clay bricks. The responsibilities of buildOn and the community to the project were discussed during several mass meetings over the past few months, and will be reviewed again during the covenant signing ceremony as outlined below:
Community Contribution
• Unskilled labor: 30 workers (15 women and 15 men) per day, six days per week
• Commitment to educating girls and boys equally
• The land on which the school is built
• High quality local materials: sand, gravel, water & rocks
• Volunteer management committee made up of 12 villagers (six women, six men)
• Lodging for buildOn Field Coordinator and skilled laborers in local houses
• Basic construction tools (picks, buckets, etc.) when available

buildOn Contribution
• Architecture and Engineering
• Construction materials (excluding local materials) for school and latrine
• Skilled labor and plans needed to build the school
• Project management (buildOn coordinators)
• Instruction in basic construction techniques